Welcome to Middle School (Years 7 to 9)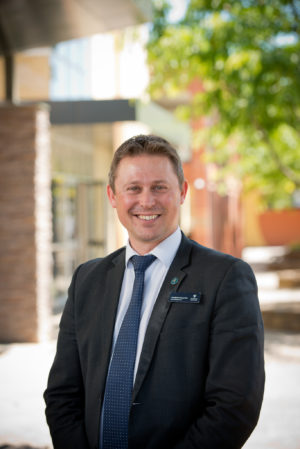 We are energetic and enthusiastic in our approach to educate and support young adolescents through Middle School years. We specifically focus on meeting the particular spiritual, intellectual, physical and emotional needs of our students. This provides students with the resiliency and support they need to cope with the transition from childhood to adulthood. The Middle School provides a supportive learning environment that allows students to venture into new challenges. Our aim is to see students engaged in learning, consolidating their skills and abilities while being thoughtfully encouraged and directed into new areas. Students acquire a growing sense of pride and ownership in their schooling. Our passion is to see young people thrive, grow and enjoy their schooling experience.

We celebrate with our students as they graduate from secondary school to follow their individual paths and future plans.
Jonathan Carpenter
Head of Middle School
Partnership
Staff seek to connect with families to better understand the students in their care. We work in partnership with families to assist the development of our young people. We invite communication and suggestions from our families to ensure the best possible support and growth for each student.
Parents have the most vital role in their child's development. We believe that the interest parents show in their child's education has a critical influence on attitude and success. Parents are encouraged to contact the College to discuss any matters relating to their child's development.

Faith
Our Christian faith is the foundation of all we do. It informs our teaching practices, pastoral care and behaviour management. It is at the very core of each staff member's involvement with the College. Our aim is to teach and foster Christian values through our Christian Education program, in which students study the Old and New Testaments and Biblical applications for daily living. We support students to actively live out their faith and to create a safe and caring community. Students have opportunities to grow their understanding of faith during Home groups, assemblies, devotions, bible studies and school community based events.

Pastoral Care
Staff meet regularly to discuss and pray for the needs of students and their families. Our pastoral care team meet weekly to discuss, implement, review and monitor support for all our students. Adolescence is often a time to push boundaries and determine independence and autonomy. We seek to provide helpful guidelines and support to students and their families as this occurs.

Community and Belonging
The Middle School staff work earnestly and prayerfully to develop a strong sense of community in each Home Group. Young people see that they each offer an individual and unique contribution to our community. This enables a rich, diverse and energetic mix of personalities and abilities to grow and develop together.

Wellbeing
We are aware of the radical changes that occur for students as they travel from childhood to adulthood. We have a specific focus on Wellbeing in the Middle School to support and assist our young people as they transition on this journey. The Middle School has Wellbeing programs interwoven through Home Groups and in curriculum areas with a Middle School Wellbeing focus for the duration of Term 3 culminating in a Middle School Wellbeing day.

Curriculum
The core subjects of the Middle School curriculum provide a solid foundation for the Senior School years. Semester subjects introduce a broad choice of elective subjects from Year 9. We encourage students to strive for the very best they can in all things. Academic excellence is encouraged and supported throughout our curriculum.
Middle School Wellbeing Day 2022
Middle School Wellbeing Day 2021
Middle School Wellbeing Day 2020