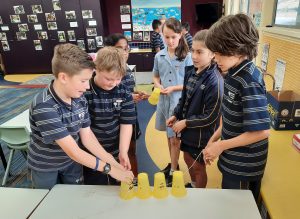 We believe that every learner has the capacity to lead whether it is offering suggestions of what to do in the playground with their peers or leading in an official responsible role.
I have had the privilege of working weekly alongside our Year 6 Leaders: both with students who have leadership badges and those without a badge but have been able to develop their leadership skills.
Our students have demonstrated wisdom and insight as they have modelled God-given principles and values through adopting a servant-leadership style.
I have been excited to see the depth and plethora of student lunchtime activities our Year 6 Leaders have organised, advertised, and implemented with the support of our Junior School staff.
Our leaders implemented a change in Semester 1 through:
Chess club
Junior Primary Ninja Warriors
Gardening Club
Running fitness laps incentives for students in Years 3 and 4
Dance Club
Insight from our Year 6 Leaders:
I have enjoyed coming up with new ideas and having fun in our learning
I have really enjoyed the principal's tour and welcoming people into our school
Being a leader has been such a great opportunity to get to work with different students from various age groups
I have enjoyed helping people in the yard solve problems. Everyone has the capacity to lead in this role of conflict disputes
I have loved seeing student's faces when they see their plants grow in the Gardening Club
My hope is that Emmaus will become a known Christian school, to be known for our Christian faith
We have such a great team of leaders with such bright ideas- I cannot wait for Semester 2!
Susanne Milne
Curriculum & Learning Years 3-6