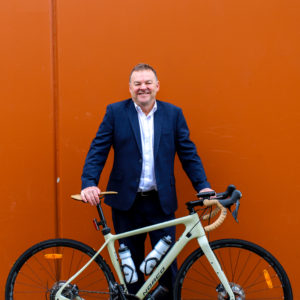 On 7 August 2023, Neil Blenkinsop, Senior School Teacher and Humanities Coordinator at Emmaus Christian College, will embark on an epic 1400km bike ride to Ernabella in the APY Lands to raise the $40,000 needed to complete the Pitjantjatjara Illustrated Children's Bible and help spread the gospel to future Anangu generations.
The ride is planned to take seven days, and for Neil to arrive at Ernabella to meet the Emmaus Christian College Year 11 students at the Ernabella Anangu School - the commencement of the annual Lands Trip on 14 August.

The Pitjantjatjara Illustrated Children's Bible will be the first ever children's art bible produced and is part of the Pitjantjatjara Bible Translation Project - Godaku Tjukurpa Tjunkupai and the Bible Society's Remote Indigenous Ministry Support
About the Pitjantjatjara Childrens' Illustrated Bible project - a vision of the Anangu people

Nami Kulyuru, a long-serving Bible translator, had the vision to pass on the stories of the Bible to her children and grandchildren using traditional paintings. She wanted to tell the stories through the symbols and in the style they were familiar with - to depict a whole Bible story in one painting, with movement through space and time. With this vision in mind, the Pitjantjatjara Children's Illustrated Bible commenced in August 2021, led by Nami herself.
In 2020, Nami's health was declining rapidly, and she was not given long to live. However, with a burning desire to see God's word come to future generations of Anangu, she devoted all the strength she had to painting Bible stories on canvas, along with other Christian Anangu translators who are also talented artists, who share her vision.

Sadly, Nami passed away in mid-2022 before she saw this vision become reality. However the team of willing Anangu Bible translators and artists are committed to seeing her vision come to fruition, and to honour her legacy for the next generation.

There are between 3000 and 5000 Pitjantjatjara speakers that live on the APY Lands, and many more who live in regional centres including Ceduna, Port Augusta and Alice Springs. The children's Bible will have a far-reaching and long-lasting impact on generations of Pitjantjatjara people.

To date, there have been 45 illustrations already completed however there are many more Bible stories yet to be painted.

For many years Nami worked as a Bible translator on the Pitjantjatjara Bible Translation Project. In 2016 she completed a first draft of the book of Habakkuk, a book the team was able to complete and publish - to Nami's great joy - just months before she passed away.

Supported by the Bible Society Australia, the aim is to complete the illustrations by the end of 2023 and to launch the published Childrens' Bible by early 2025.

All donations will be managed by the Bible Society Australia on behalf of the registered charity, Pitjantjatjara Bible Translation Project - Godaku Tjukurpa Tjunkupai.

For more information on the charity visit: