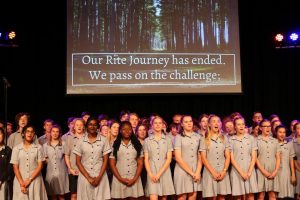 The Middle School's Final Celebration and Award Ceremony was held in the EPAC on Monday 30 November 2020. The Year 9 students opened the Ceremony with a fun performance commemorating their Rite Journey experience.
It was a heart-warming and emotional occasion as students reflected on their time in Middle school, said their goodbyes to Middle School teachers and handed-over to the upcoming Year 9s of 2021.
Congratulations to all the Year 7, 8 and 9 Award recipients including Dux Award recipients: Bradley (Year 7), Sehreem (Year 8) and Suyen (Year 9).
We thanked and said farewell to Mrs Helen Rance from her Year 8 teaching role and also to Mrs Melissa Keen in her role of The Rite Journey Home Group Teacher.
There were lots of tears of laughter and of sadness but also of joy as the year has concluded, with the final TRJ Blessing on our Year 9 students:
"This assembly and the last week of TRJ ending symbolises a marker and a passage back into the real world. The world where life is hard, where things do not go to plan, where relationships fail, you get hurt, and you feel pain for others. As you leave this assembly and Year 9 forever we ask that you do so slowly and deliberately. Remember the moment. The year that was 2020. Because you return to the real world, not empty-handed and powerless. You have spent this year learning the skills, that will help you to survive the trials here and now, and those that will come. Go with our blessing. Be well. Do good. And keep in touch."
Character Awards

Abigail and David Award:
Deborah and Timothy Award:
Yingge (Maggie) L
Lucy A
Eve W
Ruth and Elijah Award:
Anastasia W
Elton M
Callum A
Esther and Peter Award:
DUX Award Recipients
DUX Year 7 - Bradley T
DUX Year 8 - Sehreem S
DUX Year 9 - Suyen (Lacey) L